Subho Dol Purnima
দোল পূর্ণিমা হলো চৈতন্য মহাপ্রভুর জন্ম বার্ষিকী হিসাবে পালিত হওয়ার সাথে সাথে দোল জাত্রা বা হোলি উৎসবও উল্লসিত হয়।
"দোল পূর্ণিমা" হল হিন্দু ধর্মের একটি উৎসব যা ফাল্গুন মাসের পূর্ণিমা দিনে পালিত হয়। এই উৎসবটি ভারত, বাংলাদেশ, নেপাল এবং শ্রীলঙ্কার হিন্দুদের মধ্যে প্রচলিত। দোল পূর্ণিমা একটি মহৎ উৎসব যা বিশেষভাবে বাঙালি হিন্দুদের জন্য গুরুত্বপূর্ণ। এই দিনে মানুষরা প্রধানতঃ গৌরাঙ্গ মহাপ্রভুর মাঝে হাস্য ও প্রেমের সমাবেশ করে উত্সব পালিত করে।
দোল পূর্ণিমা উত্সবটি চার দিন পর্যন্ত পালিত হয়। প্রথম দিনে কৃষ্ণচন্দ্র সেনের পূজা করা হয় এবং দ্বিতীয় দিনে ফাগুন পূর্ণিমার দিনে রঙ্গ খেলা পালিত হয়। এছাড়াও এই দুটি দিনে লোকসমূহ ভিন্নভাবে উত্সব পালিত করে। দোল পূর্ণিমা উত্সবটি বাংলাদেশে পালিত হলে এটি "দোল উৎসব" নামেও পরিচিত।
Subho Dol Purnima: Celebrating the Festival of Colors in India
Dol Jatra, a significant Holi festival dedicated to Lord Krishna and Radha, is widely celebrated in West Bengal, Odisha, and Assam. According to the Bengali calendar, Dol Purnima is the final festival of the year and is scheduled to be celebrated on 08 March 2023. During this auspicious occasion, special milk-based delicacies such as homemade butter, cream, and panchamrit are prepared and offered as prasad to people from all walks of life.
To commemorate Dol Purnima 2023, we have curated greetings, HD wallpapers, messages, quotes, and SMS. Learn more about the Holi celebration in Eastern India, including its date, customs, and importance, in our comprehensive guide to Dol Jatra 2023.
Dol Purnima, also known as Dol Jatra, is celebrated in West Bengal, Odisha, and Assam, and is recognized as Phalguna Purnima in many parts of India. It falls on the Full Moon day of the Hindu month of Phalgun, marking the arrival of the spring equinox. This festival is also the birth anniversary of Chaitanya Mahaprabhuji, a spiritual leader and founder of Gaudiya Vaishnavism. Today, we celebrate the 535th Birth Anniversary of Chaitanya Mahaprabhu. The Dol Purnima tithi began at 3:27 AM today and will conclude at 12:17 AM on March 29.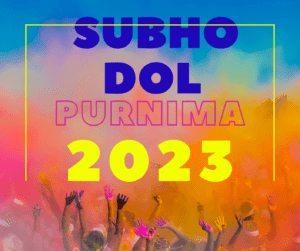 Celebrate the Arrival of Spring with Subho Dol Purnima!
Vasant Utsav, also known as the Spring Festival, is celebrated throughout the country on Dol Purnima. The day is marked by an atmosphere of joy and festivity. The use of colored powder and toy guns filled with colored water, known as Gulal and Pichkari, respectively, is a crucial part of Dol Jatra. Special Holi foods and drinks such as Gujiyas, Dahi Vada, Ladoos, Buttermilk, Thandai, and Bhang are also synonymous with this festival.
Subho Dol Purnima: The Festival of Colors and Joy!
Music and dance are essential components of Dol Purnima in West Bengal and Assam. Men and women wear bright spring colors such as yellow and violet, and flowers are put in their hair. There are various song and dance sessions in households and communities.
Here are some Dol Purnima greetings to share: "May the splash of colors bring joy to you and your family. Have a happy Dol Jatra and Vasant Utsav!" "I wish to paint not only your face but also your life with the vibrant colors of love, happiness, and joy. Happy Dol Purnima to you, dear!" "May your Dol Purnima be filled with vibrant colors, good health, and prosperity. Happy Vasant Utsav!"
Chennai vs Hyderabad – Which city is better between Chennai and Hyderabad?
Celebrating Subho Dol Purnima: The Joyful Arrival of Spring!
One of the most significant festivals in India, Holi, or the Festival of Colours marks the end of winter and the onset of spring, as people celebrate by drenching each other in vibrant colors. This year, Holi will be celebrated on March 18 and lasts for two days, starting with Holika Dahan or Chhoti Holi followed by the Festival of Colours.
The festival represents the victory of good over evil and is a time of joy, love, and gratitude for a successful crop.
Across India, there are various ways to celebrate Holi, including Lathmar Holi in Barsana and Nangaon, Uttar Pradesh, Khadi Holi in Uttarakhand, Rang Panchami in Bihar, Uttar Pradesh, Madhya Pradesh, and Maharashtra, Hola Mohalla in Punjab, Dol Jatra or Dol Purnima in Odisha, and Basant Utsav and Dol Jatra in West Bengal.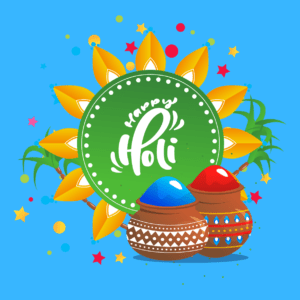 If you haven't been able to visit your friends and family due to the ongoing coronavirus pandemic, don't worry, we've got you covered.
Wishing you and your loved ones a very happy and colorful Subho Dol Purnima!
May the colors of Dol Purnima fill your life with happiness, love, and prosperity. Subho Dol Purnima!
Wishing you and your family a very happy and colorful Subho Dol Purnima!
Wishing you a day filled with fun, laughter, and colorful moments. Happy Subho Dol Purnima!
"Wishing you a Subho Dol Purnima filled with colors of joy and happiness!"
"Wishing you and your loved ones a Subho Dol Purnima filled with love, laughter, and happiness."
Thank you