Holi 2023
As Holi 2023 approaches, the vibrant Hindu festival brings with it a diverse array of celebratory traditions across India. Discover how the festival of colors is observed in various states throughout the country.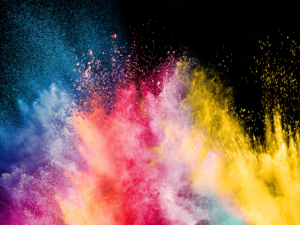 This year, Holi will be celebrated on Wednesday, March 8, 2023, in India, with the festivities kicking off the night before on Tuesday, March 7, 2023, with Holika Dahan. With the festival just around the corner, discover how Holi is celebrated in various parts of the country.
Holi 2023: History, Significance, and Traditions of the Colorful Festival
The Hindu festival of Holi, also known as the festival of colors, is traditionally celebrated in the month of Phalgun, typically falling between February and March. This joyous occasion sees people of all ages coming together to play with an assortment of colors, water, and flowers. It is customary to seek the blessings of elders, visit loved ones, and indulge in delectable Holi delicacies like gujiya and thandai after the festivities.
Get Ready for the Most Vibrant Holi 2023 Celebration Yet
Dol Yatra is a religiously diverse festival that involves playing with abir, gulal, and various colors from morning to evening. On this day, both men and women come together to celebrate, and the tradition of celebrating the arrival of spring has been in place since the time of Rabindranath Tagore, with special dances and songs performed to promote peace.
On the day before Dol, a special bonfire event called Holika Dahan or Nyradapora is organized, where materials such as wood, bamboo, and hay are burnt. In North India, the festival of Holi is celebrated the day after Bengal's Dol Yatra.
There are two types of mythological stories and folktales related to the festival of Dol or Holi. The first one is related to the pre-celebration ritual of Dol, the Holika Dahan or Medha Poda. The second one is centered around the divine love story of Radha and Krishna or the playful festivities of Fagu Khela.
Experience the Magic of Holi 2023: A Festival of Colors and Joy
In 2010, the Holika Dahan festival was celebrated in Udaipur, Rajasthan, along with the colors of Dol. Radha and Krishna's eternal love story is intertwined with the festival, depicting both the triumph of good over evil and the celebration of pure love. The vibrant colors of Dol are the perfect accompaniment to these tales of auspicious victory and intense devotion.
The festival of Holi is associated not only with Vaishnavism but also with Shaivism and Shaktism. There is another story about Holi that is related to self-sacrifice in the name of love. This story is about Shiva and Kamadeva. Before Shiva's marriage to Parvati, Parvati prayed to the god of love, Kamadeva, on the day of Basant Panchami to help her bring Shiva back from his meditation and into the world of love and devotion.
Kamadeva and his wife Rati tried to help Parvati by disrupting Shiva's meditation, but in doing so, Kamadeva was burned to ashes by the fire of Shiva's third eye. Rati was left grieving for her husband, but her arrows were powerless against Shiva, and it was only after his marriage to Parvati that she pleaded with Shiva to bring Kamadeva back to life.
Discover the Best Holi 2023 Destinations for an Unforgettable Celebration
Punjab's Holla Mohalla is a three-day Sikh festival held in Anandpur Sahib. The festival includes mock battles, music, and poetry competitions.
Kumaoni Holi is celebrated in Uttarakhand's Kumaon region and focuses more on music than colors.
In Uttar Pradesh's Barsana, Mathura, and Vrindavan, women playfully hit men with lathis during Lathmar Holi, while men defend themselves with dhal or shield.
The royal family of Mewar organizes the Royal Holi festival in Udaipur, featuring a procession with decorated royal horses and bands, a traditional bonfire, and the burning of an effigy of Holika.
Shigmo is a massive carnival celebrated in Goa, where people come out on the streets to dance and play with colors to folk music.
Rang Panchami is celebrated in Maharashtra, starting with lighting up a pyre of firewood symbolizing the victory of good over evil, followed by playing with colors and water the next day.
In Kerala, the Kudumbi and Konkani communities celebrate Manjal Kuli in a peaceful way at temples with folk songs and watercolors containing turmeric.
Holi Background
holi 2023 date in india calendar
Holi in 2023 will be celebrated on Friday, March 10th.