Motivation Shayari | Motivation Shayari in Hindi 
Motivation Shayari | Motivation Shayari in Hindi | मोटिवेशनल शायरी: कुछ बड़ा करना है या अपनी हौसला बढ़ाना है तो हमारे Motivation Shayari | Motivation Shayari in Hindi | मोटिवेशनल शायरी को जरूर अध्ययन कर लीजिए ,क्योंकि आज हमने हम आपके लिए लाए हैं मोटिवेशनल हिंदी शायरी जो आपको जीवन को बदल देगा । जिंदगी में आगे बढ़ने के लिए बहुत मदद करेगा । अगर जिंदगी में आप सफल होना चाहते हैं तो शायरी आपके लिए बहुत अच्छा होगा।
कामयाबी के रास्ते में,
थोड़ी सी तो मुश्किलें होंगी,
पर हार मत मानना,
हर मुश्किल का सामना करना होगा।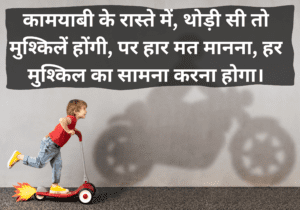 [download id="5385″]
On the path to success, There will be a few difficulties, But don't give up, You will have to face every challenge.
उठो, खड़े हो जाओ,
कुछ पाने का जज्बा जगाओ,
जिंदगी में नहीं मिलती राहत,
पर अपने हौसलों का जश्न मनाओ।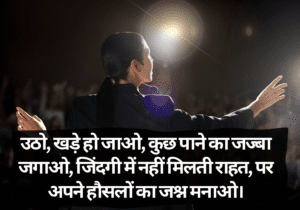 [download id="5388″]
 Get up, stand up, and Ignite the passion to achieve something, Life doesn't offer solace But celebrate your own courage.
Motivation Shayari
नहीं रुकना है अभी,
बढ़ते चलना है जिंदगी के सफ़र में,
हर गम से लड़ते चलो,
हर नई मुसीबत का सामना करते चलो।
[download id="5391″]
Don't stop now, Keep moving forward on the journey of life, Keep fighting every sorrow, and Keep facing every new challenge.
हार ना मानो, ताकत से लड़ो,
अपनी मंज़िल को पाने का सपना सच करो।
[download id="5394″]
Don't accept defeat, fight with strength, Pursue your dream of achieving your destination.
Motivation Shayari
ज़िंदगी भर ना रुकना, ना हार मानना,
हर कठिनाई से अपना दमन बचाना है।
[download id="5397″]
Don't stop or give up for life, You must save yourself from every difficulty.
Dosti Shayari | दोस्ती हिंदी शायरी | Top Friendship Shayari With Images 2023
तोड़ो उन सभी सीमाएं,
जो आपको रोकती हैं आगे बढ़ने से।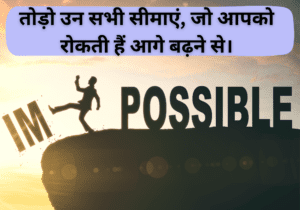 [download id="5401″]
 Break all the boundaries, That stop you from moving forward.
हमेशा समय बदलता रहता है,
इसलिए अपने सपनों का पीछा करते रहो।
[download id="5404″]
Time always keeps changing, So keep chasing your dreams.
जो दूसरों के साथ रहना सीख लेते हैं,
वो खुद का साथ कभी नहीं छोड़ते।
हर संघर्ष में जीत ये मिलती है,
जो सफलता के लिए हमेशा तैयार रहते हैं।
[download id="5410″]
"Those who learn to live with others, never abandon their own company. Victory in every struggle comes to those who are always ready for success."
Motivation Shayari
हार ना मानो तुम, तो हर जीत तुम्हारी है,
खुद को हमेशा बेहतरीन बनाने का वादा तुम्हारी है।
ज़िंदगी के हर मुश्किल से हमेशा लड़ते रहो,
सफलता के रास्ते पर अपने कदम जमाते रहो।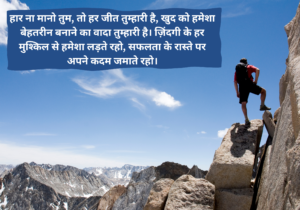 [download id="5413″]
"Don't accept defeat, then every victory is yours, You have promised to make yourself the best. Keep fighting every difficulty in life, Keep taking steps towards success."
ना हार मानो, ना उठाओ अधूरा छोड़ देना।
हर मुश्किल से लड़कर आगे बढ़ो,
जब तक जिंदगी है, आस नहीं हारना।
आपका विजयी अभियान शुरू हो चुका है।
[download id="5417″]
"Don't give up, don't leave anything incomplete. Fight every difficulty and move forward, Don't lose hope as long as you're alive. Your victorious campaign has already begun."
"Manzil ki taraf badte chalo,

Raah mein kabhi thak na jaana,

Jeet tumhari hogi ek din,

Bas himmat kabhi na haarna."
[download id="5425″]
"Keep moving towards your destination, and Never get tired on the path, You will achieve victory one day, Just never lose your courage."
"Har mushkil ko haarna nahi, Yeh zindagi ka sabak hai, Jeet ussi ko milti hai, Jo darr ke peeche nahi hat'ta hai."
"Jeet tumhari hogi agar tum,
Haar nahi maanoge kabhi,
Roshni ki tarah chamakte raho,
Andheron mein bhi khud ko paoge."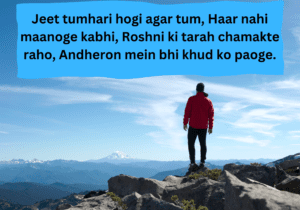 [download id="5431″]
"You will achieve victory if you, Never accept defeat, Keep shining like light, Even in the darkest times, you will find yourself."
"Haar ke baad hi jeet hai,
Khud ko har haal mein sambhalna sikho,
Jab tak zinda ho tab tak larna hai,
Jeet aapke kadam chumegi ek din."
[download id="5434″]
"Victory comes after defeat,
Learn to handle yourself in every situation,
As long as you're alive, you must keep fighting,
One day, victory will kiss your feet."
हार के बाद ही तो जीत होती है,
सफलता तो सिर्फ जीतने वालों को होती है।
इसलिए ना तो हार मानो और ना ही रुको,
बस आगे बढ़ते रहो, अपनी मंज़िल की और।
Only after defeat does victory come,
Success is only for those who win.
So neither accept defeat nor stop,
Just keep moving forward towards your destination.
मुश्किलों से डर कर ना जीवन जियो,
अपनी मंज़िल को पाने की उम्मीद लेकर जियो।
हर कदम पे तैयार रहो, हर संघर्ष में खड़े रहो,
फिर तुम देखो कि कैसे संसार आपकी तरफ आने लगे।
Don't live life in fear of difficulties,
Live with hope of reaching your destination.
Stay prepared at every step, stand firm in every struggle,
Then you will see how the world starts moving towards you.
आगे बढ़ो, हर मंज़िल को पाने की चाह में,
बिना मुश्किलों के तो कैसे होगी तुम्हारी कामयाबी में।
तैयार रहो हर संघर्ष के लिए,
क्योंकि तुम्हारी मेहनत कभी बेकार नहीं जाएगी।
[download id="5437″]
 Move forward, with the desire to reach every destination, Without difficulties, how will your success be achieved? Be prepared for every struggle, Because your hard work will never go in vain.
"Koshish karne walon ki haar nahi hoti,
Koshish karne se hi jeet milti hai,
Tu jis raaste par chal raha hai,
Usse apne iraade mein jeetna hai."
[download id="5440″]
"The ones who make an effort never lose,
Victory comes only through trying,
The path you're on right now,
You must make up your mind to conquer it."
"Zindagi ka har pal, ek naya mauka hai,
Haar maan kar, kyun khud ko roka hai?
Khud ko utha kar, phir se shuru kar,
Ek nayi ummeed, ek naya sapna, ek naya safar."
[download id="5443″]
"Every moment of life is a new opportunity,
Why stop yourself by accepting defeat?
Get up and start again,
With a new hope, a new dream, a new journey."
"Zindagi mein har safar khud ka hota hai,
Har manzil khud ki hoti hai,
Agar tu sach mein chahta hai safalta,
To khud ko banaye tayyar, khud hi jeetega tu."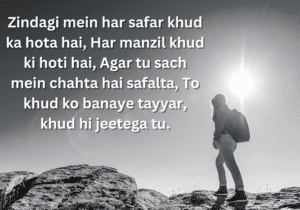 [download id="5446″]
"In life, every journey is your own,
Every destination belongs to you,
If you truly want success,
Prepare yourself, you will be the one to win."
प्यारे दोस्तों उम्मीद है की Motivation Shayari | Motivation Shayari in Hindi | मोटिवेशनल शायरी आपको अच्छा लगा होगा । मोटिवेशनल शायरी से आपकी जिंदगी बदलने वाला है । आपके शरीर में ऊर्जा शक्ति का विकास होने वाला है। जिंदगी के हर मंजिल को चुन सकते हो आपका लक्ष्य सिर्फ कामयाबी की ओर होगा । जब तक लक्ष्य प्राप्ति नहीं होती तब तक मेहनत करना होगा।