Bengali Alphabets With Hindi
Are you interested in learning the Bengali Alphabet using Hindi Varnamala? You've come to the right place. This guide will provide you with a comprehensive overview of the Bengali alphabet along with its Hindi transliteration. We'll also take a detailed look at the consonants and vowels of the Bengali alphabet and provide tips on how to pronounce them accurately.
If you're already familiar with Hindi, learning the Bengali alphabet can be a breeze and take very little time. You'll be surprised to find numerous similarities between the alphabets of these two languages.
Learn Bengali Alphabets with Hindi Varnamala: Tips and Techniques
Let's begin by examining the vowels of the Bengali alphabet with their corresponding Hindi transliteration.
Bengali, an Indo-Aryan language, is predominantly spoken in Bangladesh and the Indian state of West Bengal. It possesses a distinct set of alphabets that differs from the Hindi script. But, if you're familiar with Hindi, you can easily learn the Bengali alphabet using Hindi transliteration. This article aims to provide a comprehensive list of all Bengali alphabets with their Hindi transliteration.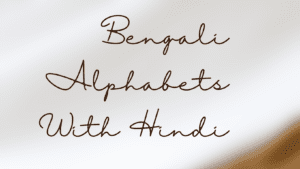 The Bengali script comprises 12 vowels and 40 consonants. Below is a detailed list of all the Bengali alphabets along with their Hindi transliteration
Simplify Your Learning Process: Bengali Alphabets with Hindi for Hindi Speakers
Let's start by looking at the vowels in the Bengali alphabet with their Hindi transliteration:
অ (ô) – अ (a)
আ (a) – आ (aa)
ই (i) – इ (i)
ঈ (ee) – ई (ii)
উ (u) – उ (u)
ঊ (oo) – ऊ (uu)
ঋ (ri) – ऋ (ri)
এ (e) – ए (e)
ঐ (oi) – ऐ (ai)
ও (o) – ओ (o)
ঔ (ou) – औ (au)
অং (ông) – अं (am)
Consonants:
ক – क
খ – ख
গ – ग
ঘ – घ
ঙ – ङ
চ – च
ছ – छ
জ – ज
ঝ – झ
ঞ – ञ
ট – ट
ঠ – ठ
ড – ड
ঢ – ढ
ণ – ण
ত – त
থ – थ
দ – द
ধ – ध
ন – न
প – प
ফ – फ
ব – ब
ভ – भ
ম – म
য – य
র – र
ল – ल
শ – श
ষ – ष
স – स
হ – ह
ড় – ड़
ঢ় – ढ़
য় – य़
ং – ं
ঃ – ः
ঁ – ँ
় – ़
ঽ – ऽ
Thank you